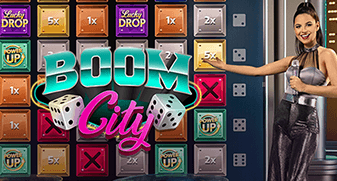 Game Provider

Volatility

High

Return to Player (RTP)

96.2%

Available with VPN

Yes

Opening Time

24/7
Boom City
created by
Pragmatic Play Live
is one of the most popular live games. You can find this live game among casino games with high Volatility. If you want to learn more about
Boom City
rules and odds, play it for free with LTC Casino.
Boom City Game by Pragmatic Play
Welcome to the bustling hub of excitement that is Boom City! Presented by Pragmatic Play, it is more than just a game – it's an exhilarating journey through a city booming with endless opportunities to win big, especially if you're into Bitcoin Boom City adventures. Ready to roll the dice and chase that euphoric rush only a hefty win can bring? Let's dive into the streets of Boom City and discover the treasures waiting just around the corner!
How to Play Boom City
Boom City isn't your run-of-the-mill casino game. It's a spectacle, a live game show that's as engaging as it is rewarding. Here's how the magic happens:
The Board: At the heart of Boom City is a 6x6 board filled with 36 fields, each representing a different outcome. The blue die guides the horizontal, and the gold die, the vertical. It's a grid where luck meets strategy.
The Roll: Place your bets on numbers or bonus squares, then hold your breath as the dice roll. The outcome? It could lead to one of three bonus games, a sweet payout, or a thrilling PowerUp feature to enhance your winnings.
The Potential: With the chance to multiply your bets up to 20,000x, the stakes are as high as the skyscrapers in Boom City, with a max prize that could reach a whopping €500,000. Now, who said the sky's the limit?
Explosive Theme: Setting and Aesthetics
The moment you step into Boom City, you're enveloped in a world where the skyline glitters with promise and every roll brings a gust of exhilaration. The aesthetic is sleek, modern, and imbued with a vibrant energy that keeps the heart racing. It's a game show setting that's as visually captivating as the game mechanics are thrilling. So, ready to let the vibrant hues of Boom City color your fortune?
Bonus Features and Special Rounds: Maximize Your Wins
Why settle for the ordinary when you can skyrocket your winnings with Boom City's bonus features? Here's a peek into the extraordinary:
Boom or Bust: Climb the levels, deciding at each whether to cash out or keep rolling. The higher you soar, the bigger the payout or, dare we say, the risk to bust.
Dice Battle: Pick a side, right or left, roll the dice thrice, accumulate results, and multiply your initial bet. The highest results fetch a tempting bonus.
Lucky Drop: Choose a column, get six rolls, and stack up multipliers as the dice match your column number. The more matches, the higher the multipliers soar.
PowerUp Special Feature: Randomly multiply fields and trigger an extra dice roll with three PowerUp features every game round. It's not just a game, it's a dice rolled fiesta waiting to explode with rewards!
Betting Mechanics in Boom City
The pulse of Boom City beats with every bet placed and dice rolled. With versatile betting mechanics, whether you're a high roller or a casual player, there's a place for everyone. It's a realm where strategy marries luck, creating a gameplay experience that's nothing short of electric.
At the screen's center, you will find betting spots. There are six such spots in total: three correspond to multipliers ranging from 1 to 5x, while the remaining three are associated with bonus games. Players also have the liberty to utilize the Autoplay feature, allowing for bets to be placed with a predetermined configuration across a specified number of rounds.
Best Strategies for Boom City
Mastering Boom City requires a blend of strategic foresight, an understanding of the betting mechanics, and a sprinkle of good old-fashioned luck. It's about making calculated moves, understanding the odds, and sometimes, just going with your gut.
Determining your playstyle is crucial. If modest multipliers suffice, larger bets on numerical sectors could be your strategy. However, Boom City's pinnacle of excitement and potential winnings is unlocked by wagering on bonuses, enticing players to usually allocate at least minimal bets on these sectors each round.
As the dice tumble, so does the heart race – it's a game of chance with a dash of strategy, and the rewards? Absolutely thrilling!
Getting Started with Boom City
Embarking on your Boom City adventure is as easy as 1-2-3.
Registration: Sign up at a live casino offering Boom City. Fill in the required details and voila, you're a member.
Making a Deposit: Navigate to the deposit section, choose your preferred payment method, and hit deposit.
Locating the Game: Boom City is typically housed within the live games or game shows section of a casino. Alternatively, you can simply enter the game's name into the casino's search bar.
Now, you're ready to hit the streets of Boom City!
Boom City is more than a game, it's an invitation to experience a world where every roll is a step towards fortune. Are you ready to chase booming wins in Boom City?
FAQ
Q: Can I play Boom City for free?
A: Unfortunately, Boom City doesn't offer a free play version as it's a live game designed to provide a real-casino experience with actual stakes. However, you can view the Boom City gameplay without making a deposit by merely creating an account at a casino that offers Pragmatic Play live games.
Q: What are the odds in Boom City?
A: The odds vary based on the bets placed and the bonus rounds entered. Every roll is a new chance to win big! The game's RTP fluctuates between 93.49% and 96.21%, contingent upon the betting sector and strategy selected.
Q: Is Boom City available on mobile?
A: Absolutely! Boom City is designed to be enjoyed on various platforms including mobile. So, you can roll the dice and chase the excitement wherever you go!