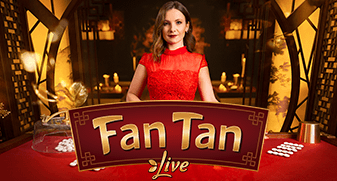 Game Provider

Volatility

High

Available with VPN

Yes

Opening Time

24/7
Fan Tan
created by
Evolution
is one of the most popular live games. You can find this live game among casino games with high Volatility. If you want to learn more about
Fan Tan
rules and odds, play it for free with LTC Casino.
Fan Tan by Evolution Gaming
Dive into the enthralling world of Fan Tan, brought to you by Evolution Gaming. This classic Asian bead game, now featured in our live casino, is a captivating blend of simplicity and excitement. The essence of Fan Tan lies in the prediction - a chance to outwit fate by guessing the number of beads left. As you delve into this elegant game, you'll find a treasure trove of betting options awaiting.
Whether you're new to table games or a seasoned player, Fan Tan is sure to provide a riveting live casino experience. And with the option to play Bitcoin Fan Tan, the stakes are as high as your daring!
How to Play Live Casino Fan Tan
Fan Tan's allure is in its simplicity coupled with a sprinkle of anticipation. Here's a step-by-step guide to getting started with this timeless game.
Fan Tan Basics: Understanding the Live Table Setup
At the heart of Fan Tan are the radiant beads, initially collected under a glass dome. The dealer, with a metallic cup, selects a random number of these beads, setting the stage for your predictions. Your main objective? Predict the final count of beads that remain after the dealer's division.
Betting Options in Live Casino Fan Tan
Fan Tan is rich with betting possibilities, each with its unique payout. Whether you're going for a Fan Bet, predicting the exact number of beads remaining, or playing it safe with a Big/Small or Odd/Even bet, Fan Tan has something for everyone. And for those seeking a higher thrill, the advanced game mode opens up a realm of additional traditional bet types to explore.
Best Strategies for Live Casino Fan Tan
Fan Tan is a game of chance, but a sprinkle of strategy can add to the fun.
Adapting Traditional Strategies to the Live Version
While the live version of Fan Tan is a modern twist to the classic game, traditional strategies can still come in handy. Observing patterns, managing your bankroll, and making informed bets can enhance your gameplay, making each session at the live Fan Tan table an exhilarating adventure.
Getting Started with Live Casino Fan Tan
Ready to try your luck at Fan Tan? Here's how to get started.
Registering and Making a Crypto Deposit for Live Casino Fan Tan Step-by-Step
Getting started is a breeze.
Simply register at our Fan Tan live casino.
Then, make your initial deposit (Bitcoin Fan Tan, anyone?).
Now, you're ready to dive into the action!
Our user-friendly interface ensures a seamless experience, whether you're a novice or a seasoned table games enthusiast.
Engage in a game that's as intriguing as it is simple. The bead-laden world of Fan Tan awaits, offering a unique blend of tradition and modern live casino gaming. Venture into the realm of Fan Tan, where every bead holds a promise of fortune. Will the beads lay in your favor? There's only one way to find out. Embark on your Fan Tan adventure today and discover a game that's stood the test of time, now brought to life in our live casino.
FAQ
Q: Can I play Live Casino Fan Tan for free?
A: Our live casino is all about the real deal, with real stakes for real excitement. However, upon registering on our platform, you unveil the opportunity to delve into the gameplay without the necessity of making a deposit.
Q: What are the odds in Live Casino Fan Tan?
A: Fan Tan offers competitive odds with a theoretical payout percentage ranging between 96.25% to 98.75%, depending on your chosen bet.
Q: Is Live Casino Fan Tan available on mobile?
A: Absolutely! Enjoy Fan Tan on any device - the excitement of the live casino game travels with you.