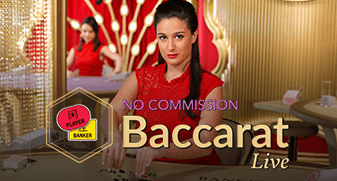 Game Provider

Volatility

High

Available with VPN

Yes

Opening Time

24/7
No Commission Baccarat
created by
Evolution
is one of the most popular live games. You can find this live game among casino games with high Volatility. If you want to learn more about
No Commission Baccarat
rules and odds, play it for free with LTC Casino.
No Commission Baccarat Rules and Gameplay
If you've ever played Baccarat before, you know that the banker bet has a 5% fee charged at the payout. The fee is applied because the banker's hand has slightly higher odds of winning, so it smoothes out the difference in the mathematical expectation.
In No Commission Baccarat by Evolution, all bets are free from extra fees. Regardless of whether you bet on a banker or a player, the payout will always be 1:1.
In terms of the gameplay, Evolution's No Commission Baccarat is the same as the regular variation. At the beginning of a game round, the dealer puts two cards for each side. Subsequently, a third card may be dealt according to the No Commission Baccarat rules. The side with the highest score based on the predetermined card value wins.
You can bet on either side or a tie. In addition, Evolution's No Commission Baccarat offers several side bets. For example, you can bet on whether the first two cards of any side make a pair.
No Commission Baccarat Features
The fundamental difference of No Commission Baccarat online is that if you win on the banker's hand with six points, the payout will be 0.5:1. One would assume that this is an unfavorable outcome for the player. However, in Evolution's No Commission Baccarat, you can also place a Super 6 bet, which pays 15:1 when the banker wins with exactly six points. This allows you to hedge your main bet on the banker or chase a bigger multiplier compared to the regular game payouts, just like with any other side bet.
The No Commission Baccarat RTP is 98.76%, making it one of the most profitable casino games for the player.
FAQ
What is the max win on No Commission Baccarat?
The maximum payout on No Commission Baccarat is 200:1. This can be achieved with a Perfect Pair side bet when both sides are dealt identical cards (in terms of suit and value) as their first two cards.
Are there any betting strategies for No Commission Baccarat?
In the long run, the player bet is slightly more profitable than any other bet in No Commission Baccarat from Evolution. For the rest, you can apply the same strategies as in the regular game version.
Can I play No Commission Baccarat for free?
You do not have to make a deposit if you just want to watch No Commission Baccarat live. Simply sign up at LTC Casino and open the game, so you can watch Evolution's No Commission Baccarat for free.