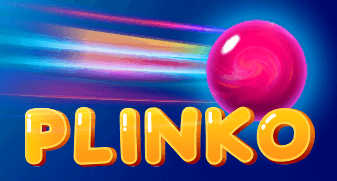 Game Provider

Volatility

High

Return to Player (RTP)

99.0%

Buy Bonus Feature

No

Play for free

No
Plinko
created by
BGaming
is one of the best slots. You can find this slot among games with high Volatility. If you want to learn more about
Plinko
, play it for free with LTC Casino.
What is Bitcoin Plinko?
Plinko for Bitcoin is a casino game where you bet on balls rolling down a pyramid-shaped board. The further the ball lands from the center of the pyramid, the greater the payout. Pockets in the central part return only a part of the bet, while those at the edges can increase the bet by tens or hundreds of times.
How to Play Plinko with Bitcoin?
To start playing the Bitcoin Plinko game at our casino, first, you need to complete a short sign-up process. You don't have to share your personal information or go through KYC. The last preliminary step is to make a deposit. You can play Plinko with Bitcoin, Litecoin, Ethereum, Dogecoin, XRP, or USDT.
As soon as the deposit reaches your account, you can start playing the Plinko casino game with real money right away. The Bitcoin Plinko interface has two key settings:
Risk level. Determines the distribution of multipliers among pockets. The higher the risk level, the greater the payouts for the outer pockets, but the central ones pay less.
Number of rows. If you select more rows, there will be pockets with higher multipliers on the screen, but a part of the existing payouts will be reduced.
You can also activate the autoplay mode or place bets manually. As soon as you make the first bet, a ball will appear on the screen. The winnings depend on the pocket the ball lands into. You can launch several balls in a row and immediately use your winnings to place new bets.
Bitcoin Plinko Strategies
Bitcoin Plinko is a simple yet exciting game. When playing Plinko for real money, players stick to various strategies in order to increase their odds of winning and make the game last longer.
Keep track of your balance. Every pocket in Bitcoin Plinko from BGaming awards some payout, even if it is just 0.2x. However, a string of payouts below the initial bet can easily take a toll on your balance, so be careful.
Choose bets wisely. For example, you may decrease your bet if the balance drops sharply or if you move to a higher risk level.
Avoid emotional decisions. When you are out of luck or, on the contrary, especially lucky, it's easy to get emotional and stray away from your optimal playstyle. If you notice this is happening to you, better take a break and leave the game for a while.
Pros and Cons of Playing Plinko with Bitcoin
The Bitcoin Plinko game is highly successful with players. There are several reasons for that:
Win big or win often. It all depends on your chosen game settings;
Exciting gameplay. Dozens of balls can be present on the board at the same time;
Multiple game variations. You can deposit into any Bitcoin casino offering the version of Plinko you are interested in;
No limit gambling. Bitcoin allows you to bypass restrictions of traditional payment systems and play Plinko from anywhere in the world with increased anonymity.
One downside of Bitcoin Plinko is that you need to learn a new payment method if you don't know much about cryptocurrencies, but this is easier than it sounds.
Bitcoin Plinko FAQ
Is Bitcoin Plinko safe?
Yes, Bitcoin Plinko is completely safe thanks to the provably fair algorithms. However, you should still be careful when choosing a casino to play Plinko, so you can avoid possible difficulties at the withdrawal stage.
Where can I play Bitcoin Plinko?
You can play the best version of Bitcoin Plinko from BGaming at LTC Casino. We support major cryptocurrencies, do not require KYC, and instantly pay out winnings.
How to beat Plinko?
No strategy will guarantee you success in Plinko, but with some luck and smart betting, you can still win big.
How much can I win?
Payouts at the highest risk level can be as high as 1000x. However, you can win comparable amounts even at lower risk levels if you bet more.