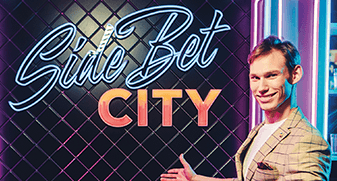 Game Provider

Volatility

High

Available with VPN

Yes

Opening Time

24/7
Side Bet City
created by
Evolution
is one of the most popular live games. You can find this live game among casino games with high Volatility. If you want to learn more about
Side Bet City
rules and odds, play it for free with LTC Casino.
Dive into the Excitement of Side Bet City Casino Game
Side Bet City by Evolution is a unique poker variant that allows players to bet on different hand outcomes rather than playing against a dealer or other players. Side Bet City is available in live casinos and is facilitated by live dealers, making it an interactive and immersive experience.
How to Play Side Bet City
The game is noted for its simplicity and ease of play, making it a suitable choice for both beginners and seasoned poker players. The betting options are straightforward, and players don't need to learn complicated rules or strategies to participate. The side bet feature is a standout aspect of this game, offering chances for significant wins based on the poker values of the hands dealt.
The 1980s Vibe: A Retro Experience
Take a trip down memory lane to the colorful 1980s with Evolution Side Bet City. The game takes you to a Las Vegas-themed poker room where neon lights flash, and the excitement never ends. The aesthetic of this live dealer casino game is not just a visual feast, but a nostalgia-infused journey that sets the perfect stage for some serious poker action.
Types of Side Bets: Betting Beyond the Norm
Side Bet City isn't your average poker game. The unique aspect is that players bet on win outcomes of 3-Card, 5-Card, or 7-Card hands, or take a chance on the 'All Lose' option, against a paytable, not against the dealer or other players. Are you a fan of the classic poker hands? Then you'll enjoy the side betting options here which are based on traditional poker hand rankings. From Royal Flushes to Full Houses, the stakes and the thrills escalate with each side bet.
Betting Mechanics in Side Bet City
How to play Side Bet City, you ask? It's a breeze! Kick things off by placing your bet on any outcome you desire. Once your initial bets are on the table, sit back and let the game unfold. No further decisions are required as the game plays out, revealing the results for each hand. The simplicity of Side Bet City makes it a go-to choice for both novice and experienced poker players.
Best Strategies for Side Bet City
While Side Bet City rules are straightforward, devising a winning strategy requires a blend of intuition, understanding of poker hands, and of course, a slice of luck. Familiarizing yourself with the paytable is imperative. Did you know a Royal Flush on a 5 Card hand pays 1000:1?
Getting Started with Side Bet City
Ready to hit the tables? Registering and depositing for Side Bet City is a cakewalk:
Pick a reputable casino offering Side Bet City in its game lineup.
Complete the registration by providing the necessary details.
Make your first deposit using a plethora of options - bank cards or e-wallets. There are also Bitcoin Side Bet City casinos for crypto enthusiasts.
Navigate to the Side Bet City game, grab a seat, and place your bets. Your poker adventure begins now!
With the blend of retro aesthetics, engaging gameplay, and the opportunity to win big, Side Bet City stands out as a stellar choice for poker enthusiasts. Whether you're a seasoned pro or a poker newbie, the allure of Side Bet City is hard to resist. Are you ready to place your bets and try your luck in this electrifying poker variant?
FAQ
Q: Can I play Side Bet City for free?
A: No, Side Bet City is played only with real money bets. Nonetheless, you can observe the Side Bet City gameplay without making a deposit by simply registering at a casino offering Evolution live games.
Q: What are the odds in Side Bet City?
A: The odds vary depending on the hand and the type of bet placed. For instance, a 3-Card hand has a theoretical payout percentage of 96.69%.
Q: Is Side Bet City available on mobile?
A: Absolutely! Side Bet City is optimized for play on all devices including mobile, allowing you to enjoy the poker action wherever you go.