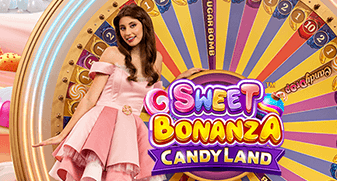 Game Provider

Volatility

High

Return to Player (RTP)

96.48%

Available with VPN

Yes

Opening Time

24/7
Sweet Bonanza Candyland
created by
Pragmatic Play Live
is one of the most popular live games. You can find this live game among casino games with high Volatility. If you want to learn more about
Sweet Bonanza Candyland
rules and odds, play it for free with LTC Casino.
Sweet Bonanza Candyland Live Game
Sweet Bonanza Candyland isn't just a game — it's a sugar-coated journey to a world filled with candy delights and sweet winnings. Developed by the iconic slots brand Pragmatic Play, this game has transitioned from the realm of slots to a live casino game show, offering a candy land of opportunities for players to win big. The core of the excitement is centered around the Sweet Bonanza Wheel, where every spin could lead to delicious bonuses or tantalizing multipliers.
How to Play Sweet Bonanza Candyland
Sweet Bonanza Candyland offers an engaging blend of simple betting with the excitement of live-action and bonus games, making it an attractive option for players seeking a straightforward yet entertaining gaming experience.
A Sugar Rush: Candy-Themed Experience
When you play Sweet Bonanza Candyland, you're immersing yourself in a candy-themed spectacle. As the game begins, you're greeted by an eye-popping virtual 3D world melded with physical elements, broadcasting live from a specially designed studio. Dynamic lighting, sounds, and animations adapt seamlessly to the game's events and stages, enriching your gaming experience. The centerpiece of the studio, the Sweet Bonanza Wheel, is your ticket to a realm of sweet rewards.
Bonus Rounds and Multipliers: Sweet Rewards
The Sweet Bonanza Wheel features six betting positions: three numerical (1, 2, 5), and three bonus games that open doors to higher earnings. Land on the 'Sweet Spins' segment, and voila! You've just bagged 10 Free Spins, played live on the big screen with mechanics akin to the Sweet Bonanza slot. As you collect premium symbols, your winnings increase, making every spin a thrilling adventure.
Now, if 'Candy Drop', a multiplier bonus game, catches your spin, get ready to pick a candy ball and watch it tumble through a virtual Plinko wall maze, collecting multipliers along its descent. And the cherry on top? If your candy ball hits all four Jackpot Boxes, you're looking at a payout with a staggering 1000x multiplier.
Bubble Surprise is a swift and captivating Bonus game where players can randomly acquire one of several Candies encased in bubbles. Players have the opportunity to snag multiplier rewards of 5x, 10x, 25x, enhancing their gaming experience. Moreover, it opens up an additional avenue for players to qualify for the bonus games - Candy Drop or Sweet Spins.
And when the wheel stops on the 'Sugar Bomb' segment, a random multiplier of up to 10x is granted, triggering a re-spin of the wheel. If a player activates the 'Sugar Bomb Booster' feature, the awarded multiplier is doubled. In the event that on the re-spin, the wheel once again settles on a 'Sugar Bomb' segment, then the awarded multipliers are multiplied together. For instance, a 2x followed by a 5x results in a total multiplier of 10x.
Betting Mechanics in Sweet Bonanza Candyland
The betting in Sweet Bonanza Candyland is as straightforward as it gets. You place your bet on one of the six positions on the wheel, with each spin giving you a shot at landing on a number or a bonus game.
In the middle of the screen, you'll see six betting areas. Three of these offer multipliers between 1 and 5x, while the other three are linked to bonus games. Additionally, players can take advantage of the Autoplay feature to set up bets using a predefined strategy for a certain number of rounds.
Best Strategies for Sweet Bonanza Candyland
Mastering Sweet Bonanza Candyland requires a blend of understanding the bonus features, managing your bankroll, and a pinch of luck. You can bet on 6 different outcomes: numbers 1, 2, and 5, as well as three bonus games, namely the Sweet Spins, Bubble Surprise, and Candy Drop.
Engage with the bonus games, as they are your pathway to the bigger rewards. And remember, the 'Sugar Bomb' section is your friend — it's where multipliers multiply! You can also play an optional Sugar Bomb Booster for 25% of your bet, which doubles any multipliers picked during the Sugar Bomb bonus round.
A strategy called the "Bet All Strategy" involves wagering on all possible outcomes. This strategy is essentially a high-risk, high-reward approach, where the player has chances to land on any of the outcomes, thus potentially reaping rewards from multipliers.
Remember, no strategy can guarantee a win since Sweet Bonanza Candyland is a game of chance. However, understanding the game mechanics, managing your bankroll, and utilizing the available features strategically can potentially enhance your gameplay experience and maybe lead to better outcomes.
Getting Started with Sweet Bonanza Candyland
Taking your first step into the candy paradise is a breeze.
Choose a reputable online casino offering Sweet Bonanza Candyland.
Create an account by providing the necessary details.
Make a deposit using your preferred payment method.
Navigate to the live casino section and select Sweet Bonanza Candyland.
Now, you're all set to play Sweet Bonanza Candyland!
Sweet Bonanza Candyland is not just a game - it's a narrative of sweet, sweet adventure waiting for players willing to spin the wheel of fortune. With its captivating visuals, engaging live dealers, and the promise of hefty rewards, every moment spent playing Sweet Bonanza Candyland is a moment well-spent in candy heaven.
FAQ
Q: Can I play Sweet Bonanza Candyland for free?
A: While Sweet Bonanza Candyland is a live dealer game that requires a deposit, you can watch the gameplay for free by simply creating a casino account.
Q: What are the odds in Sweet Bonanza Candyland?
A: With an optimal theoretical RTP of 96.95%, the odds are quite favorable compared to many other casino games.
Q: Is Sweet Bonanza Candyland available on mobile?
A: Absolutely! Sweet Bonanza Candyland is designed to be accessible on various platforms, including mobile devices, allowing you to enjoy the sweet gameplay anytime, anywhere.